I've done several blog hops on this site, but up until now I'd never heard of a subscriber hop. Yet, that's just what this one is that I found on Let's Just Give It Away. Most blog hops work in conjunction with Google Friend Connect. But this one is about subscribing to the RSS feeds of other bloggers via their email subscription.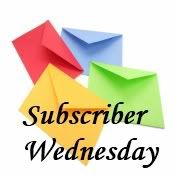 Being someone who's been in the blogging field for several years now, I know how important it is to get people to sign up for your feed. It gives your site more authority and builds trust with search engines.
The rules of the game are easy. Subscribe to the hostesses and leave them a message telling that you've done so. Then add their button to the site you're listing. Remember that this is a subscriber linky. You need to subscribe to the email RSS feeds, not just follow them on GFC (although you can do that too if you want). Nor should you post about your current giveaway. There are other linky lists out there for those.
Finally, just make sure to subscribe to the blogs of your choice. If someone else comes to your site and subscribes to your site, be kind enough to do the same. It's just good manners, but it's not required.
The hostesses of this link up are as follows:
This is a great way to see those Feedburner numbers go up. Not to mention the fact that you'll have new readers interested in your latest contests, giveaways, and reviews.