Hey kids,
I just found this really cool blog hop idea and had to join in. Instead of just being a one day thing, this one lasts for the entire weekend. I can handle that. LOL. This is the brain child of Tara at
Graphic Designs by Tara
and I think it's just way too awesome.
There's a couple rules that go with this blog hop, but not too many. All you have to do is follow Tara on Google Friends, add the blog hop button to your site and follow at least 2 other people on the list. That's it. But remember, if someone out there stops by and follows you, be nice and follow back. It's not required, but it is good manners.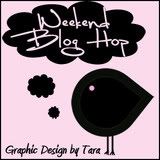 So let's get this weekend started and get to hopping all over the place. Have fun and go meet some new people. After all, what else are you going to do this weekend??? :)
Christine Senter