Thanks in part to BlogFest and Blogmania, I've become seriously addicted to these mega giveaways. It's not about finding the cool things to try and win, it's about trying to get in on as many giveaways as possible in a short amount of time. There's something about being under that much pressure that gets my motor running and my desire to party till I pass out.
I've been watching a few of my favorite giveaway blogs for signs of future mega events and I've found a few that are already beginning to announce their next blog parties. And from the looks of things, October could prove to be a HUGE month for giveaways.
The first one I want to talk about real quick is the
Ultimate Christmas
giveaway party that will be held between October 5th and will end on November 12th. This giveaway is being hosted by
Survey Junkie
,
Little Yaya's
, and
Review Retreat
. I don't have a lot of details on this one just yet, but head over to any of these ladies blogs and get signed up for their newsletters so you'll know when the big event starts and all the giveaways happening with them.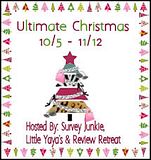 Another giveaway extravaganza coming in October is the first annual
Scare & Share
being held by
Mommy Wants Freebies
and
All Aboard The Review Train
. These girls already have quite a few sponsors but are still accepting more. If you're interested in becoming a sponsor for this giveaway, let either one of the girls know. You can find their contact information on the giveaway post. This event will start on October 1st and end on the 10th.
And I just received notice about this one a few moments ago. Children Teaching Mama is having a special event going on throughout the month of October. The event is spotlighting
Mama-Owned Businesses
and will be only about businesses owned and operated by moms. This is going to be a huge giveaway event as the site will be posting a new giveaway every day of the month. That's awesome. Go check it out and get signed up so you can get in on some of the cool giveaways that will handed out.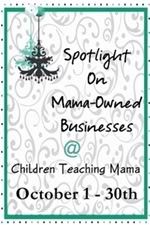 That's all I have for right now, but if you know of another event getting ready to happen, or happening right now, let me know. I'd love to tell everyone I know about it and come by and get in on it myself. Good luck to everyone and let the October games begin. :)
Christine Senter