I've done a lot of blog hops lately, but I've never gotten in on the very first of any of them. That is until tonight. I'm so thrilled about finding this and being in on the first round that I could just do backflips in my ergonomic chair.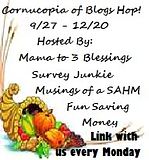 This brand new blog hop is called the Cornucopia of Blog Hops and it was created to kick off the fall season. That's cool with me because this is my favorite time of year. Things start to change color, the temperature begins to drop a bit, and there's just something about a September/October sunset that makes me feel at one with nature.
The hostesses of this blog hop are:
Stacie from
The Survey Junkie
Nicole from
Mama To 4 Blessings
Erika from
Musings From A Stay-At-Home Mom
and
Mellisa from
Fun Saving Money
To get in on this blog hop, simply follow all the of the ladies mentioned above and add your name to the list. But Wait!!! There's more!!!
You also need to follow the weekly chosen blog. Each week one blog will be chosen to sit in the coveted #5 spot and for the very first week, that person is:
Jenn from
My Delicious Ambeguity
. Congrats Jenn for being the #1 person to hold the #5 position. LOL
So let's get this autumn party started and let's get to hopping. Have fun and make some new friends.