Hey kids, it's time once again for Admirer Mondays. I kind of like this little blog hop as it just seems friendly to me. Don't know why, I'm just saying. This blog hop is put on my Krista at
Heavenly Savings
and Brandy at
Giveaway Blogdom
. I love the fact that they have a "question of the week" to help give everyone something to break the ice and I will be answering said question on this site.
Question:
How do you like your eggs?
Personally, I like them turned into an omelet. In the real world, I'm a waitress in a tiny Mom and Pop cafe. And every morning for breakfast I have a 2-egg, ham and cheese omelet smothered in green chili and a piece of french toast OR an order of wheat toast. (I think I just made myself salivate).
Anyway, the main reason I'm posting this is to add my 2-cents worth to this week's Admirer Monday. The rules of the game are that you've got to be a follower of the 2 girls mentioned above, and whoever the lucky winner of the coveted #3 spot. This week that person is
The Frugal Free Gal
. Congrats to the winner.
Now, the next trick is to make sure that you have the Admirer Mondays button added onto your blog. I put mine right up there at the top of the page. First of all, it matches the decor. And second, I want to make darn sure that they see it if and when they ever come a-knockin'. You don't have to post the button to your site, but if you don't you won't be in the running for the #3 spot.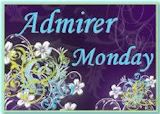 Finally, just add your name and site to the list. From there it's just a matter of going from site to site and meeting some new people. Though it's not required, it's just good manners to return the follow to anyone who's following you. And if you do follow someone, be kind enough to let them know. And also, if you happen to have an Adult Site, you MUST mark your site as much in the list.
That's all there is to it. Don't be shy, go out and meet some people. But most of all, have fun doing it. Happy Admirer Monday to one and all.