As I promised in my last post, I'm going to do a little write up on all the bloggers who followed me back on Tuesday. I'd planned on having this post done yesterday, but I took my daughter to the eye doctor to get her first set of contacts (which she also helped pay for by herself) and then we had a girls day out shopping. It was a blast and something that we've been needing to do for a very long time.
Anyway, on to the introductions. I was thrilled with the number of followers I had sign up under me this round. I don't know if it's because I'm going to do little write ups about each of them or if it's because I'm doing a different "follow me" thing. I don't really care which it is, I'm more than happy to have each and every one of these ladies hanging around.
First and foremost, I have to introduce Jennifer from
The Craft Barn
. I don't know that she's following me, but she was the first commenter on my post and that's good enough for me. Also, she's an awesome person and she has some really cool giveaways from her online store. Go check them out. She's got a whole section on wooden roses that I'd do just about anything for. Thanks Jennifer for stopping by. (PS--If anyone out there likes to sew, Jen is looking for a few pattern testers. Check out
her blog
for further information).
Next on the list is Lisa from
Raising Future Leaders
. I'm totally blown away by this woman as she's not only homeschooling her 6 beautiful babies, but she's also into Holistic medicines (me too) and she's a midwife. Thanks Lisa for stopping by and I will be subscribing to your blog for more awesome ideas.
We also have Christy from
All Aboard (The Review and Giveaway Train)
. I seriously found this site by accident even though she was also on the FMBT list. I clicked on a button at someone else's site that took me to a site where I clicked on her button. Yes, three sites later and I found this killer site. Christy does a lot of giveaways and reviews. The coolest part about this site is that you don't have to go hunting for the giveaways as they're listed right at the top of the site. Thanks Christy, I'll be back.
Then we have Leigh from
Inside My Head
. I subscribed to her site on Tuesday as she didn't have her Google Friend list up yet, and I'm more than glad I did. She's a riot. I love the way this girl thinks. She's a mom and a wife, and has days when she thinks she needs a manual to get through it all. Honey, you're not alone. I've been married for 20 years and have 2 kids and I'm still looking for that darn manual. LOL. Thanks sweetie for coming by.
Next we have "J" from
Boobies, Babies, and a Blog
. She's one of the hosts for the FMBT event and she's got an awesome site. She has several giveaways going on and also has them listed close to the top of the page for easy access. Thanks "J" for signing in, that made my day.
From there we move on to Shanna from
Mommy of One...And Counting
. Shanna is a stay-at-homer with a sweet 3 yr old son. She showcases giveaways and is looking for businesses to promote on her blog. Go check her out and see if she can't do something to help your business get noticed. Thanks Shanna.

Down one more and we have
Mass Hole Mommy
. This is a cool site with lots of giveaways right at the top of the page. She's a single (but not for long) mom of 2 boys and something tells me that she's tough enough to handle it. Thanks honey for stopping by and for those nice little "pics" you posted yesterday. YUMMY!!!!!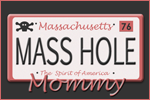 Next on the list is the owner of
HootieBee's
. This is a great site full of handmade hair accessories, jewelry, and much more. There are a lot of products for little girls so stop by and check it out. There's some really cute items in her inventory. Thanks for following me and I'll "bee" keeping an eye on your shop.
Here we have Miss Kim from
The Stinker Pinkers
. I put it that way because she is the only human female in her house. She's the mother of 2 little boys and married to 1 bigger one. She loves to blog, write, read, and whatever she can to make her home a nicer place for her boys. She's also a devoted Christian woman and isn't afraid to share that detail. Thanks Kim for stopping by.
Now we have xiICEPINKix from
The Rainbow of Free Samples
. And like the name says, her site is filled with places where you can get free samples. She also does a lot of meet and greets and follow me events. This is a really cool little site. Thanks IcePink for stopping by my place.
Next we have Charity from
Humbolt Cherry
. Neat little site created by a woman who obviously loves animals. She's a big meet and greeter and has a gorgeous site. Thanks Charity for stopping by my site and following me along the way.
And now we have Jen from
Jen's Random Ramblings
. Jen and her husband, Mike, are independent Scentsy Consultants. They are also best friends and parents to a gorgeous little girl named Abigail. Stop by and tell Jen hi. Thanks honey for swinging by Redhead Rants.
And finally we have Cindi from
Little Yaya's
. This is the site where I found all the information about the FMBT as she's one of the hosts. This is a great little blog full of giveaways, reviews, and a lot more. Run over there and check it out. Thanks for following me back Cindi.

And that's it for this week. I'm thrilled that this post is going to be so long, but I think in the future I'll cut the posts down a bit even if I have to post more than one for the list. Aw darn, I have too many follower. Shucks. Oh well, LOL.
Thanks to all my new followers for coming by and I will be watching all your blogs. Have a great day and happy blogging.